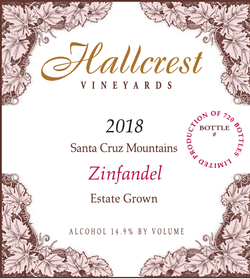 2018 Zinfandel
2018 Zinfandel, Santa Cruz Mountains
This is our second year of production from a vineyard that we took over back at the beginning of 2017, located up in the mountains near Zayante. Planted on head-trained vines back in 1986, this is truly an old Vine Zinfandel that yields only approximately 1 1/2 tons of fruit.
We are so impressed with this vintage which even surpasses the previous vintage as far as variety of fruit flavors and depth of character and overall around richness in mouth feel. This wine has intense blueberry and hints of black pepper, with a lot of other brambly fruits woven in between and a variety of spices complemented by the soft toasted oak barrels. This wine is very limited supply and extremely high demand please enjoy through the year 2029.
1,080 bottles produced, 15.1% alcohol.